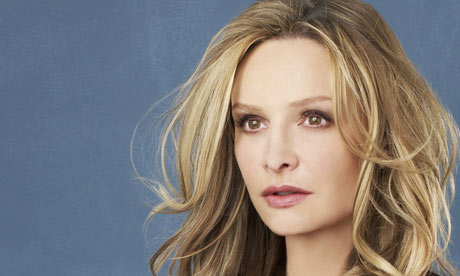 Calista Kay Flockhart (born November 11, 1964) is an American actress who is primarily recognized for her work in television. She is best known for playing the title character in the Fox comedy-drama series Ally McBeal (1997–2002) for which she won a Golden Globe Award. She starred as Sally Field's character's daughter, Kitty Walker McCallister, on the ABC drama, Brothers & Sisters (2006-2011).
Flockhart was born in Freeport, Illinois, the daughter of Kay, a teacher of English, and Ronald Flockhart, an executive for Kraft Foods. Her parents are retired and live in Morristown, Tennessee. She has one older brother, Gary. Her mother, Kay Calista, reversed her own first and middle names in naming her Calista Kay. Calista also had a great-grandmother named "Calista".
Because her father's job required the family to move often, Flockhart and her brother grew up in Illinois, Iowa, Minnesota, Norwich in New York, and New Jersey. As a child, she wrote a play called Toyland in which she performed to a small audience at a dinner party.Flockhart attended Shawnee High School in Medford Township, New Jersey. Following her graduation in 1983, Flockhart attended the Mason Gross School of the Arts at Rutgers University in New Brunswick, New Jersey. While there, she attended a specialized and competitive class, lasting from 6:00 AM to 6:00 PM. In her sophomore year at Rutgers, Flockhart met aspiring actress Jane Krakowski, the best friend of her roommate. Later they would both work together on Ally McBeal.
Flockhart's acting ability was recognized when William Esper (Mason Gross' theatre director and Flockhart's acting teacher) made an exception to policy by allowing Flockhart to perform on the main stage. Though this venue is usually reserved for juniors and seniors, Harold Scott insisted that Flockhart perform there in his production of William Inge's Picnic. Flockhart graduated with a Bachelor of Fine Arts degree in theatre in 1988, as one of only a few students who successfully completed the course. She was inducted into the Rutgers Hall of Distinguished Alumni on May 3, 2003.After receiving her degree, Flockhart moved to New York City in 1989, where she remained until 1997, living with three other women in a two-bedroom apartment and working as a waitress and aerobics instructor, while she simultaneously sought auditions.
In spring 1989, Flockhart made her first television appearance in a minor role in an episode of Guiding Light as a babysitter. She made her professional debut on the New York stage, appearing in Beside Herself alongside Melissa Joan Hart, at the Circle Repertory Theatre. Two years later, Flockhart appeared in the television movie Darrow. Though she later appeared in films Naked in New York (1993) and Getting In (1994), her first substantial speaking part in a film was in Quiz Show, directed by Robert Redford.
Flockhart debuted on Broadway in 1994, as Laura in The Glass Menagerie. Actress Julie Harris felt Flockhart should be hired without further auditions, claiming that she seemed ideal for the part. Flockhart received a Clarence Derwent Award for her performance. In 1995, Flockhart became acquainted with actors such as Dianne Wiest and Faye Dunaway when she appeared in the movie Drunks. Later that year, Flockhart starred in Jane Doe as a drug addict. In 1996, Flockhart appeared as the daughter of Dianne Wiest and Gene Hackman's characters in The Birdcage. Throughout that year, she continued to work on Broadway, playing the role of Natasha in Anton Chekhov's Three Sisters.